Boingo Management Team
Chief Executive Officer
Mike Finley
Mike Finley is CEO of Boingo and serves on the company's board of directors. He is responsible for the company's strategic direction and leading the business into the 5G future. Prior to Boingo, Finley served as President of North America and Australia at Qualcomm. He has over three decades of experience in senior management roles in the telecommunications industry with Nextel, Sprint, Verizon Wireless, Airtouch Cellular, Cellular One and McCaw Cellular. He currently serves on the board of the CTIA, the board of the Los Angeles Sports and Entertainment Commission, and the Creighton University Board of Trustees. Finley received a B.S. and B.A. in marketing from Creighton University and is a member of the university's Hall of Fame. He also attended the General Manager Program in Executive Education at Harvard Business School.
Chief Financial Officer
Peter Hovenier
Peter Hovenier has served as Boingo's Chief Financial Officer since November 2012. He served as the company's Senior Vice President Finance from June 2007 to November 2012, and as Vice President Finance and Administration from June 2002 to June 2007. Prior to joining Boingo, Pete was Vice President Finance and Administration of Frontera Corporation, an application service provider. Prior to Frontera, he held financial management positions with GeoCities, a web-hosting service; MGM Studios, a media company; and Wyndham Hotels Corporation, a hospitality company. In 1995, Pete became a Certified Public Accountant in the State of Washington. He received a B.A. in accounting from Western Washington University.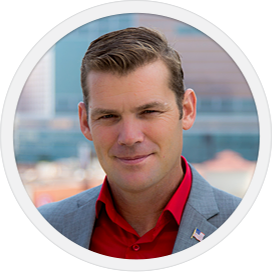 CHIEF TECHNOLOGY OFFICER
Derek Peterson
Derek is responsible for Boingo's core technologies and systems, including web applications, client software, networks, authentication, billing, business intelligence and IT infrastructure. Derek holds a BS in Computer Science from the University of Maryland, an MA in Education and Technology from the American Intercontinental University, and a Doctorate of Computer Science with a focus on Enterprise Information Systems from Colorado Technical University. He is an adjunct professor for Colorado Technical University and an editor for the International Journal of Strategic Information Technology and Applications. In 2017, he was named CTO of the Year by Los Angeles Business Journal.
CHIEF MARKETING OFFICER
Dawn Callahan
Dawn is responsible for Boingo's marketing, branding, communications, and public relations. She is part of the leadership team that took Boingo from start-up to a global wireless leader, including its IPO in 2011. Dawn has been named one of the Top 100 Most Powerful Women in Cable (Cablefax), one of the Top Women in Digital (Cynopsis Media), and Marketer of the Year (PR Magazine). Prior to joining Boingo, Dawn was Vice President of Marketing at Time Warner Cable. During her tenure, she was named "Woman of the Year" by Women In Cable and Telecommunications (WICT) and was a Betsy Magness Leadership Institute Fellow in 2004-05. Dawn holds a BA in Sociology from Washington State University and an MBA in Entrepreneurship from Concordia University.
CHIEF COMMERCIAL OFFICER
Michael Zeto
Michael leads Boingo's commercial strategy. He is responsible for driving growth and results across 5G, CBRS, Wi-Fi 6/6E and IoT, and leading Boingo's emerging businesses, venue acquisition and monetization strategies. A seasoned corporate executive, Michael has a successful track record for building new businesses and creating profitable growth. Prior to Boingo, he was Vice President, Internet of Things Solutions, and Founder and General Manager for AT&T's Smart Cities and emerging IoT solutions. Before joining AT&T, Michael co-founded and served as CEO of Proximus Mobility and previously held leadership positions with top technology companies. Michael serves on the Board of Directors of the Metro Atlanta Chamber and Technology Association of Georgia. He holds an MBA from Florida Gulf Coast University and BA from Wilkes University.
SVP, GENERAL MANAGER, MILITARY
Bruce Crair
Bruce is responsible for our Military business unit, which delivers high-speed Internet and IPTV to more than 130,000 customers at 60+ military bases and federal training complexes around the world. Prior to his tenure at Boingo, Bruce served as the Chief Operating Officer of Endeka Wireless, which was acquired by Boingo in 2013. Bruce has more than 30 years of industry experience including roles at Pacific Bell, Cox Communications, Sprint PCS and a variety of technology and wireless startups. He holds an MBA from the University of California, Berkeley and a BS in physics from the U.S. Naval Academy.