Made for iOS

Get the Boingo Wi-Finder and enjoy these features:
Boingo Wi-Finder will help you find and connect to Wi-Fi at thousands of Boingo hotspots worldwide. Plus, in our latest release, we've added a handy data usage screen that helps you avoid data overage fees!
Access to Boingo Hotspots
With more than 1,000,000 Boingo hotspots around the world — including airports, hotels, coffee shops, stadiums, and more — you're never far from a Boingo hotspot. Simply download Boingo Wi-Finder to start accessing hotspots with one tap.
Auto-Login For Subscribers (iOS 9 and Above Only)
Simplify your connection experience with Wi-Finder's new auto-login feature. Just select "Enable Auto-Login" in the app's Settings screen, and the app will automatically log you in at supported Boingo hotspots. Sit back and enjoy a seamless Wi-Fi experience.
Boingo-Enabled Network Tag (iOS 9 and Above Only)
Sometimes you find several Wi-Fi networks in one place and it may not be obvious which one your Boingo account will work on. With the latest updates to the iOS app, Boingo partner networks will include "Use Boingo Wi-Fi here!" as part of the network description in Settings to make it easier than ever to find Boingo hotspots.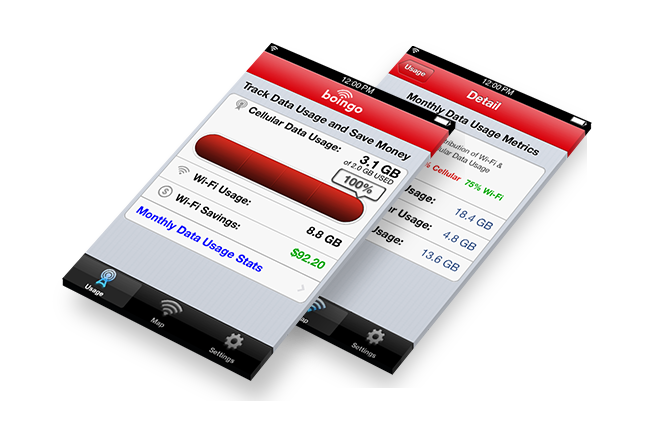 Data Usage Tool
Set up our data usage tool to track your cellular data activity and avoid expensive overage charges. Just use Wi-Fi to save money! We preset the tool to calculate savings based on a default cellular data plan with 2GB per month, but you can enter your plan's specific details for data and overage charges on the "Settings" screen.
Maps
Looking for hotspots in Paris, France? Or Paris, Texas, maybe? Let Boingo Wi-Finder go to work. Find local hotspots or search for hotspots worldwide. Get results on a map or list view. Search and filter hotspots according to hotspot quality. Green pins indicate certified hotspots (highest quality), yellow pins indicate trusted hotspots (tested free locations), and red pins indicate unverified hotspots (user-submitted free locations). We recommend connecting to certified hotspots when available – these locations consistently provide great Wi-Fi experiences.